Who Gives A Crap
Regular price
Sale price
$3.60
Unit price
per
Sale
Sold out
These 100% bamboo rolls are 100% the most elegant toilet paper we've ever seen.

Share
View full details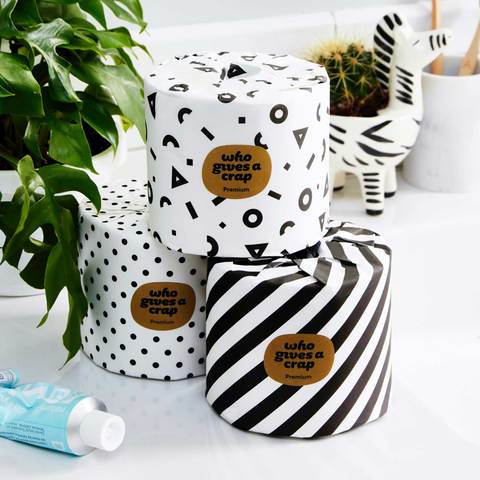 Why Bamboo Toilet Paper?
Highlights

Every day, over 1 million trees are cut down to make traditional toilet paper. We're not so keen on killing trees just to make TP, which is why these rolls are made with 100% bamboo fibers.

A lot of people don't realize that bamboo is a grass, not a tree. It grows incredibly quickly, making it a sustainable source for loo rolls. You can wipe easy knowing that you're helping to reduce deforestation one flush at a time.
Materials

100% renewable and sustainable bamboo.
Shelf-Life

These double-length rolls are 370 sheets of extra cushy 3 ply TP. How long this lasts in your bathroom will depend household to household.

dimensions: 3.94″x 3.94″ sized sheets
End of Life Care

Biodegradable and plays well with most septic systems. Recycle the paper packaging, or use it for crafting!